Tracklist:
Amorous – Jesse Boykins III
Treehome95 – Tyler, The Creator
Beckham – Yung Baby Tate
Do For Love – 2Pac
Soaked – Bene
Die Young – Roddy Ricch
Laputa (Taylor McFerrin Remix fet. Anderson .Paak) – Hiatus Kaiyote
Call Me – Slum Village, Dwele
Same Ol' Mistakes – Rihanna
Wanna Get To Know You - G–Unit ft. Joe
Freeee (Ghost Town Pt.2) – KIDS SEE GHOSTS
Enter Galactic (Love Connection Part I) – Kid Cudi
Provider – Frank Ocean
SUMMER – BROCKHAMPTON
Sex With Me – Rihanna
Stealing – Ty Dolla $ign
Me, Myself and I – Beyonce
Them Changes – Thundercat, Flying lotus
Alladat – Church & AP
Wanna Know – Dave
Let's Get Blown – Snoop Dogg
Run For Yo Life – 03 Greedo
This One – Eno x Dirty
Madly – HIGH HOOPS
Meet the Frownies – Mr Twin Sister
Bound – Ponderosa Twins Plus One
Outstanding – The Gap Band
Mystic Brew – Ronnie Foster
Can't Stop (feat. Kanye West) – Theophilus London
Midnight Groove – Spycc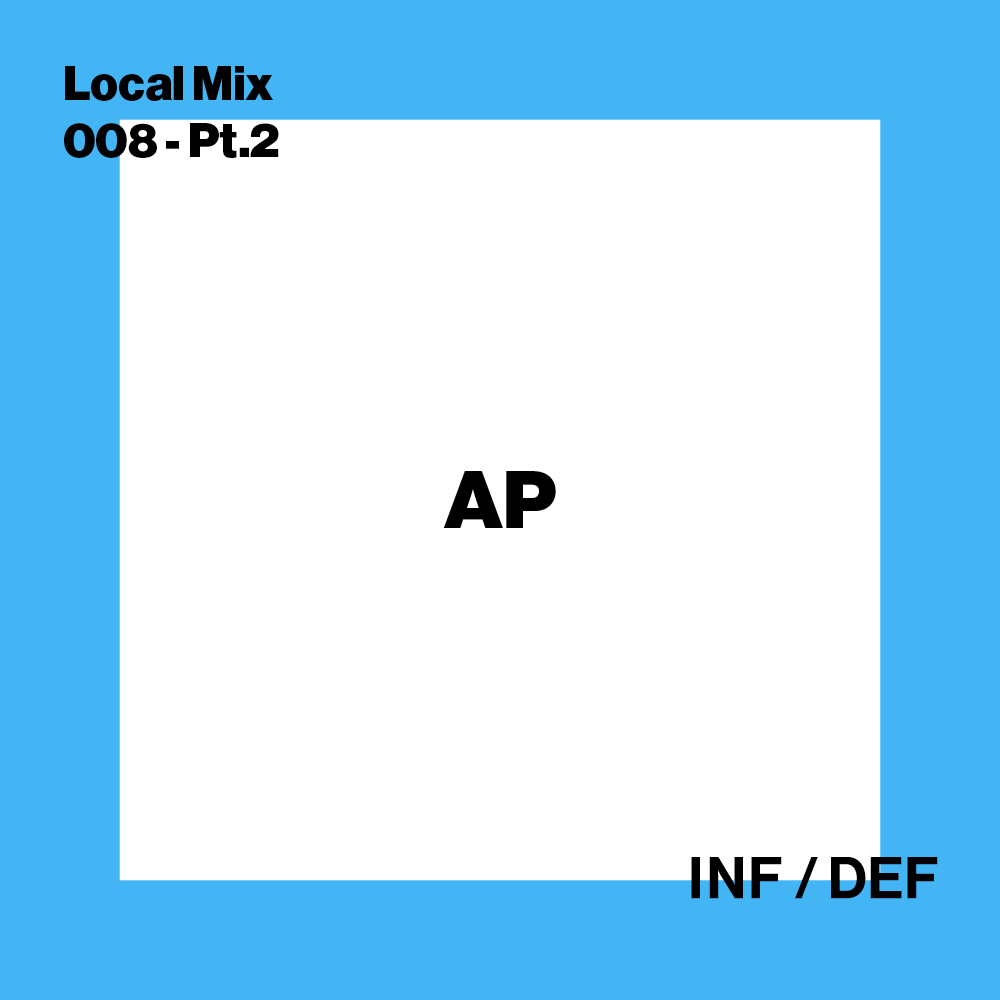 Tracklist:
Ikarus – Ladi6
WAKE UP – travis Scott
Married To The Game – Future
Empathy (feat Alori Joh & Ja Vonte') – Ab-Soul, Alori Joh
Money in the Bank – Baka Not Nice
Perplexing Pegasus (SR3MM) – Rae Sremmurd, Swae lee, Slim Jxmmi
Caught in a Daze – David Dallas, Freddie Gibbs
Nelly – Isaiah Rashad
Reboot (feat. Chance the Rapper) – KAMI, Smoko Ono
Millionaire – Kelis, Andre 3000
Kelly Price Freestyle – KEY, Kenny Beats
Brothers – Kid Cudi, King Chip
Style Stealer (Lil Baby & Gunna) – Gunna
Gone Till November – Wyclef Jean
---
Inf Def Local Mix 008 - Church & AP

Our girl in charge of these mixes Charlotte saw duo Church & AP play a set a few months ago at a festival and got teary eyed because they were so good. Not only do they know how to put on a show, they also know how to dress so what a perfect match for Infinite Definite! Here's what they had to say;
We are...

Church: We are two teenagers out of AKL city that make objectively cool raps for monetary gain
Favourite brands...
AP: Carhartt and Ralph Lauren are essential (@poloequipped duh)
Church: Jimmy Fraser

Our idea behind the mix...

Church: We just wanted to give you both of our music tastes. There should be something for everyone in there.
Favourite spot in Christchurch...
AP: TBH I've never been to Christchurch but would love to visit!
Church: Wherever Scribe was raised.
A trend that I'm really into right now...

Church: Utility/Workwear. I like clothes with clear stitching as well, that stuff is cool to me.
AP: If Fortnite is a trend, then FORTNITE
Five people you'd invite to Friday Beers at Infinite Definite…
Church: The Beatles + AP
Our fashion icon(s)…

Church: Baccyard, Skateboard P, DMX
AP: Dera Meelan
My go to performance outfit...
Church: I don't mind as long as I have a fresh fade.
AP: Polo on polo on polo.