Local Mix 025 —
There's A Tuesday
Dream-Pop
Indie-Rock,
Electro-Pop

While we're all back in our bubbles we've taken the opportunity to introduce our fave new CHCH local indie dream-pop band: There's A Tuesday. They've got a stellar summer planned full of headline gigs at some of the biggest festivals country-wide and record making with Benee's new label Olive Records. We're stoked to have had the chance to chat to these guys from afar, and we're super excited to see what's in-store for them next! Keep a close eye on this space!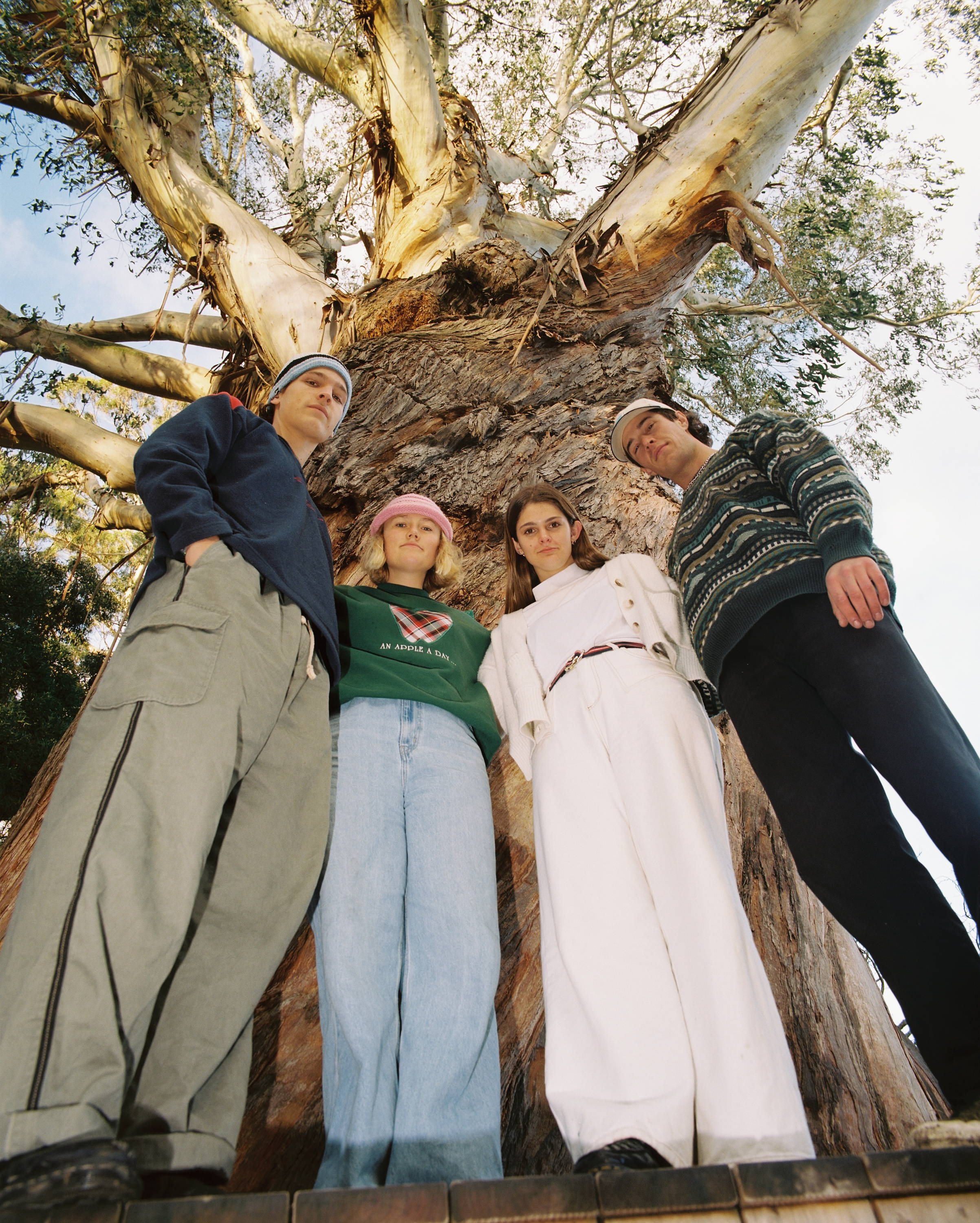 We Are...
    There's A Tuesday: Minnie Robberds (She/Her), Nat Hutton (She/Her), Joel Becker (He/Him), Angus Murray (He/Him)
We are an indie dream-pop band from Christchurch, Aotearoa.

How we would describe our music and some of our influences...
    We create indie music with dream-pop-type melodies, accompanied by story-telling lyrics that speak of mental health, people and love <3 Some of our influences are Julia Jacklin, Phoebe Bridgers, Soccer Mommy, Lorde, Beach Bunny and BENEE.
Our idea behind the mix...
    Our idea behind the mix was to create a collection of our favourite artists in the whole entire world and what compositions of theirs we are listening to at the moment. We hope introduces some people to some music they haven't heard before! And that they are missing out on!!!! Some genres included throughout the mix are indie-rock, dream-pop and electro-pop.
A trend we're really into at the moment...
    A trend we're really into at the moment hmmm! Nat loves making homemade necklaces out of little beads she collects! Unsure if it's a trend or not, but Min is real into gardening, Angus teaches surfing and Joel is in the making of being a jiu jitsu champ. The boys are really good skaters, so we (Nat & Min) are trying to get better at that too :)!!
Who we would invite to Friday beers...
    Phoebe Bridgers, Kate Bush, Chloe Swarbrick, Minnie's dad Mark, Prince, Julia Jacklin, Bon Iver and Jacinda Ardern.

Who are our fashion icons...
    Hmmm, Tyler The Creator, Harry Styles, David Bowie and Billie Eilish.
Our go to performance outfits...
    Our go to performance outfit normally consists of a range of the four of our clothes mix and matched on everyone. We are all of a similar size so it is just a mega wardrobe! The girls like wearing suits or normally fun pants with shirts or singlets. Angus loves a cool t-shirt and Joel is starting to become well known for wearing a white singlet tucked into a pair of Dickies on stage.
How everyone can support our music...
    You can support our music by streaming us on your preferred streaming platfrom, following us on our socials, buying merchandise or sharing any of our content! Anything is so appreciated!
Some INF DEF Items we luv x